love me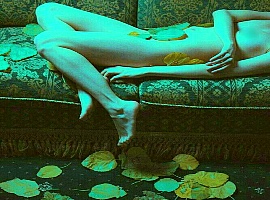 think waking, so be
the lakes of drowning
my prince on a torn horse
now is the hearse of
morning, feel commitment
almost counterfeit
whilst the window is
a throat outwards onto
angry
the pillow now wrecked
i dreamed was a lover
opened as a dirty envelope
lonely did not exist, wreathed
in sperm, sighs and spittle,
heavenly hole for the heart to crow
thirst had to be caffeinated
and that wakeful already
fatigued, anchors from under
where sleep is a kingdom of
false clothes and has the harmony
of tongues in addictive song
but daylight won't have it, the more
my body languishes the fiercer more
halogen-like brightness becomes
and those corpses out there lead to
queues whilst sinister traffic
exhales poison
i'll not mainstream today, am too
heavy lidded and elbows wanting
to share the floor, let ceiling gazes continue
was i only a two glance worth last night
and both shrank? no invite to rip me to
find me other than ordinary
i have palaces that want to be wandered
and fingered for the shivers that such
touches bring ignition
this gash of old lonely, i am not solved
was i not meant for that regal curve of
a benevolent universe?
love is adjacent to seldom i know, the
obscured of heart are beaten petals
and frozen rope for valentine's to hang
the longing ache to be loved, the longing
want to be included in someone, may as
well shriek the moon downwards
desire, its lust, these futile ghosts
flee tepid warmth into a refugee of
coldness and snuff out intuitive sparks
a moth in night flight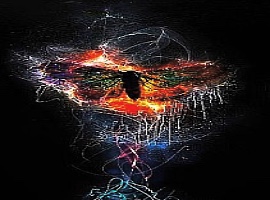 small sewing machine whirs
all fluttering wings
caution from mayhem
where the night jar sings
aloft shouting owl
and vixen bark
past crippled branch
from drowsy lark
suicide headlights dash
come false bird velvet unheard
thru gossamer slept streets
and hallucinated cement
amidst breathlessness
black drifts nightly cinder
where death sews anew its
genderless nightshade fingers
fake firefly no-glow-no-belly-
coals swoons against yellow
blaring window panicky almost,
my stillness almost broke
glances exchange this uncertain
night, the shroud we both stare,
exiled, you mosaic eyed into,
and i drowned depths out of
you seduced my untrue fire
condemned to mesmerise
until spiders
have you murdered
and me upon which unfulfilled
wishes try breathing should they
learn of the sky, as damaged sighs
they would flee buRning out -
mismanaged desire
the onyx womb-an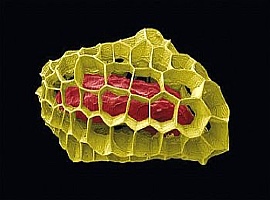 this a room of near stars
if scars succeed, stopper-
the comets to come, a catastrophe,
a silence will have dirge begun
honey deception for that planetary
martian where want is more desirable
than god, a bee carves worship and
a tongue that knows the right lanes
comes to this adult addicted terrain
where monthly a lunar dot furnaces,
"i am full of sharp indecipherables" she cries,
shakes a cut from trouser vertical smile
oh absurd swoon, repeat shudder whilst
gazers soar their "elsewheres" then
deleted mood an aftermath-slovenly-pyscho,
out-glowed and what insisted, shrivels
returns him to the soot of boredom
renowned for its daft slumber, she's
indigo weathers all clattered mirrors
in seismic applause and spasm
what has the serpent done to the wound?
made magma its groan but loneliness a
bandage no amount of crowding will undo,
the wall will always return unlimited staring
that kernel-bowed-buckled-bower
a soil of creased sores all folded
floors, a heartbeat's red cargo,
flotsam grenades honeycomb furniture
ah dull bright insincere everywhere
oh flesh-throe and cordial twitches,
seamstress how it writhed almost
holes broken, comes home fading
strummed its violent discord -
until oneness reunited -
a double sphere worded outwards
a clay lounge
of confiscated senses, we
trod as aliens but felt quite at home,
inside, our wishes, our demands met blind
this yard a finite cosmos
of wet capillary dresses,
no trolls to harm us
no horizon to wander
eddies secretly sighing could
be languages of air, a
constant stream of see-thru
no visitor can intrude
that arch of warm discolour
there the nets fully wince,
we peer from sideways shaped oceans,
a foetal poem of stray rearranging atoms
not quite breath
in a pendulum's swing,
this space that visors
that incites the hinge
strode blackness to this unique throat
noise ablaze shout-ables,
voiced thunderbolts and
surreal clinical flavour, ufo's
repeating tasers
the hourglass we shrug thru
from apparent seed
flimsy as parchment to
sturdy-scaffold imago
transparent and hollered as an image spilt window
drowsy, then swept as sea horses in a tide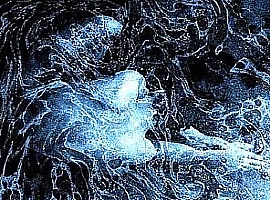 slow oh slowly dew apparel
hasten slower, mellow mallow
sculptures of ceilings flow'd over,
interrupts the upward's jagged
watched grasses laze their leaning,
breezes hardly leafing hardly breathing,
considerable sleeping much is under
eyelids, bees subdued musicians
there yawns glass enthralled wave
onto quiet grey idyllic shore,
silent floors sunbeam gather
no sharp insect or raucous flutter
ether, gossamer thumbed -
disturbing nothing, noise is taken
when sound is gone, the underside
of a coffin's peaceful residing
quite dreamless quite ethereal
watched whilst walking amongst
cloud, drifting moist wakes that
isn't rain and tearful, cascades and
other such soothing calms
we slumber among an ammonite's spiral
tumbling the unlit shallows then furthers deepness
completing velvet canyon to precipice leaps
lullaby disarmed, we stir like fish
disturbed by murderous herons
amazed at such fleeing, metallic
dashing and gleaming
sudden-sea-horse-sudden-mayhems
a stir of agitated rays twisting -
blackouts and tornado scarves, ink
quick hares thru' strewn nerves chase
we gasp from quite underneath
shatter the shell's ambient grip
dash thru cellophane grasped shimmer
whilst sleep thaws its strangled hinge
dark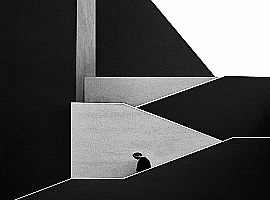 crashes,
failed seas
tipped under
gathers
ink-filled
drowning
worded
skull-
nourished
assassin
trespasses ambient
headaches
in cracks
where mirrors
are told not to
no room
for the clown's smile
about to be beheaded
wonderful
is emaciated,
night broke its terrible mouths
a lifetime's
filthy sleeps or
so the corpse feels
from this
rehearsed nerve
i grew dead
head
in a dismantled
constellation
star rotted
the usual mindfuls,
days, minuted holes
afternoons
mortuary themselves
stillness and ill
limitless everywhere
exception being this selfish prism
a fence inward turning its insults
black lidded
cumulous inch out
the rays
birdsong muzzled
and laughter
drained of every colour
those on
sunshine,
de-smile
expiry
yearned
for
optimist
in a jar
of electric blazing
dead skies
dead lightening
rushes in
occupying
deleting,
grows awful shadows
axis
spilt,
imbalances
came
here to
kill
and does
by slow
millimetres
how
skilled