love me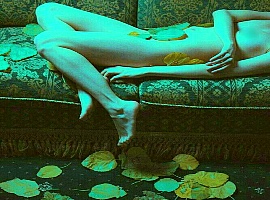 think waking, so be
the lakes of drowning
my prince on a torn horse
now is the hearse of
morning, feel commitment
almost counterfeit
whilst the window is
a throat outwards onto
angry
the pillow now wrecked
i dreamed was a lover
opened as a dirty envelope
lonely did not exist, wreathed
in sperm, sighs and spittle,
heavenly hole for the heart to crow
thirst had to be caffeinated
and that wakeful already
fatigued, anchors from under
where sleep is a kingdom of
false clothes and has the harmony
of tongues in addictive song
but daylight won't have it, the more
my body languishes the fiercer more
halogen-like brightness becomes
and those corpses out there lead to
queues whilst sinister traffic
exhales poison
i'll not mainstream today, am too
heavy lidded and elbows wanting
to share the floor, let ceiling gazes continue
was i only a two glance worth last night
and both shrank? no invite to rip me to
find me other than ordinary
i have palaces that want to be wandered
and fingered for the shivers that such
touches bring ignition
this gash of old lonely, i am not solved
was i not meant for that regal curve of
a benevolent universe?
love is adjacent to seldom i know, the
obscured of heart are beaten petals
and frozen rope for valentine's to hang
the longing ache to be loved, the longing
want to be included in someone, may as
well shriek the moon downwards
desire, its lust, these futile ghosts
flee tepid warmth into a refugee of
coldness and snuff out intuitive sparks
a moth in night flight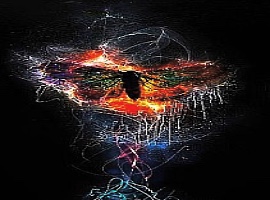 small sewing machine whirs
all fluttering wings
caution from mayhem
where the night jar sings
aloft shouting owl
and vixen bark
past crippled branch
from drowsy lark
suicide headlights dash
come false bird velvet unheard
thru gossamer slept streets
and hallucinated cement
amidst breathlessness
black drifts nightly cinder
where death sews anew its
genderless nightshade fingers
fake firefly no-glow-no-belly-
coals swoons against yellow
blaring window panicky almost,
my stillness almost broke
glances exchange this uncertain
night, the shroud we both stare,
exiled, you mosaic eyed into,
and i drowned depths out of
you seduced my untrue fire
condemned to mesmerise
until spiders
have you murdered
and me upon which unfulfilled
wishes try breathing should they
learn of the sky, as damaged sighs
they would flee buRning out -
mismanaged desire
the onyx womb-an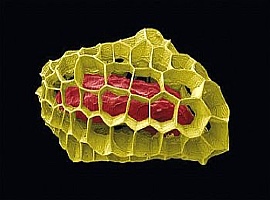 this a room of near stars
if scars succeed, stopper-
the comets to come, a catastrophe,
a silence will have dirge begun
honey deception for that planetary
martian where want is more desirable
than god, a bee carves worship and
a tongue that knows the right lanes
comes to this adult addicted terrain
where monthly a lunar dot furnaces,
"i am full of sharp indecipherables" she cries,
shakes a cut from trouser vertical smile
oh absurd swoon, repeat shudder whilst
gazers soar their "elsewheres" then
deleted mood an aftermath-slovenly-pyscho,
out-glowed and what insisted, shrivels
returns him to the soot of boredom
renowned for its daft slumber, she's
indigo weathers all clattered mirrors
in seismic applause and spasm
what has the serpent done to the wound?
made magma its groan but loneliness a
bandage no amount of crowding will undo,
the wall will always return unlimited staring
that kernel-bowed-buckled-bower
a soil of creased sores all folded
floors, a heartbeat's red cargo,
flotsam grenades honeycomb furniture
ah dull bright insincere everywhere
oh flesh-throe and cordial twitches,
seamstress how it writhed almost
holes broken, comes home fading
strummed its violent discord -
until oneness reunited -
a double sphere worded outwards
a clay lounge
of confiscated senses, we
trod as aliens but felt quite at home,
inside, our wishes, our demands met blind
this yard a finite cosmos
of wet capillary dresses,
no trolls to harm us
no horizon to wander
eddies secretly sighing could
be languages of air, a
constant stream of see-thru
no visitor can intrude
that arch of warm discolour
there the nets fully wince,
we peer from sideways shaped oceans,
a foetal poem of stray rearranging atoms
not quite breath
in a pendulum's swing,
this space that visors
that incites the hinge
strode blackness to this unique throat
noise ablaze shout-ables,
voiced thunderbolts and
surreal clinical flavour, ufo's
repeating tasers
the hourglass we shrug thru
from apparent seed
flimsy as parchment to
sturdy-scaffold imago
transparent and hollered as an image spilt window
drowsy, then swept as sea horses in a tide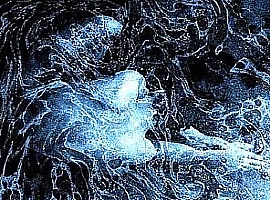 slow oh slowly dew apparel
hasten slower, mellow mallow
sculptures of ceilings flow'd over,
interrupts the upward's jagged
watched grasses laze their leaning,
breezes hardly leafing hardly breathing,
considerable sleeping much is under
eyelids, bees subdued musicians
there yawns glass enthralled wave
onto quiet grey idyllic shore,
silent floors sunbeam gather
no sharp insect or raucous flutter
ether, gossamer thumbed -
disturbing nothing, noise is taken
when sound is gone, the underside
of a coffin's peaceful residing
quite dreamless quite ethereal
watched whilst walking amongst
cloud, drifting moist wakes that
isn't rain and tearful, cascades and
other such soothing calms
we slumber among an ammonite's spiral
tumbling the unlit shallows then furthers deepness
completing velvet canyon to precipice leaps
lullaby disarmed, we stir like fish
disturbed by murderous herons
amazed at such fleeing, metallic
dashing and gleaming
sudden-sea-horse-sudden-mayhems
a stir of agitated rays twisting -
blackouts and tornado scarves, ink
quick hares thru' strewn nerves chase
we gasp from quite underneath
shatter the shell's ambient grip
dash thru cellophane grasped shimmer
whilst sleep thaws its strangled hinge
dark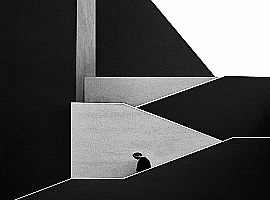 crashes,
failed seas
tipped under
gathers
ink-filled
drowning
worded
skull-
nourished
assassin
trespasses ambient
headaches
in cracks
where mirrors
are told not to
no room
for the clown's smile
about to be beheaded
wonderful
is emaciated,
night broke its terrible mouths
a lifetime's
filthy sleeps or
so the corpse feels
from this
rehearsed nerve
i grew dead
head
in a dismantled
constellation
star rotted
the usual mindfuls,
days, minuted holes
afternoons
mortuary themselves
stillness and ill
limitless everywhere
exception being this selfish prism
a fence inward turning its insults
black lidded
cumulous inch out
the rays
birdsong muzzled
and laughter
drained of every colour
those on
sunshine,
de-smile
expiry
yearned
for
optimist
in a jar
of electric blazing
dead skies
dead lightening
rushes in
occupying
deleting,
grows awful shadows
axis
spilt,
imbalances
came
here to
kill
and does
by slow
millimetres
how
skilled
flailed by the serpent's tongue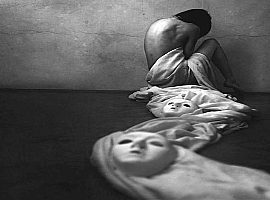 this heart tonight is dark
redeems damnation a
sexual re-constellation,
spires often, protein salvation,
instead, immoral annihilation
YOU
re-murdered the man far too young
took him by the rhizome and tore
it unrecognisable, tore it right thru',
YOU
exclude
by readable wounding -
by alienation and evil readerships,
YOU
enable self loathing to wander
its rank feeling a suicidal comet
about to hit for tomorrow's
offensive newsprint to gloat
tonight the heart is crawled
obscenely with, sprawled with
lips that always misfit, feral,
frenzy devourers, half others
lair-watchers upright stiffness,
once had, back to the marital bed
fled to that unaware carcass
addicted and full, oh what a
labyrinth stickiness, what a
fool, regret has more teeth
and gnaws, how to outwit the
lie becoming shaped
but sex is about reinfection about
reinvention, blazes its long reservoir
of want, a dirty genome a mouth
on wordlessness eats anyone,
moonbeams drop down filthy
suitors phantom towards the
misty gauze of handprints, to
clamber, to cloy, to swallow,
gasp horizontal benediction
as if touches haven't been seen
violated
numerous eyed,
radar-red-rushed-
exaltation, senses
re-comet
such statues met
and meant, speaking
is anonymous for breezes
only, disregard names
but accept polite rape
this is how lonely is
exhibited, we try in vain
to snare love's firefly heart
but deceit is a coat worn
by many a smile
so many treacherous smiles
guilt is a worm that reoffends,
eating, devouring trying to
devour the blood's lantern,
the mind's traffic has the
orbit of a liar and refunds sadness
how many masks make the
possession of a man? tallies
of them
the heart tonight is obliterated,
aftermath onwards to oblivion
the motorway we maelstrom down
there the sculpted dead ply their skull stares,
withered ones increasing by the month
passive lightening
lights up stained eyes
to feel the stench
that love isn't, love
simply rots
"cock will do when the chalice is none"
the thin lines a spider spins
like nervousness like time,
footsteps ghosts and falling,
loneliness is like the death of
someone or realising there is
no one
valentine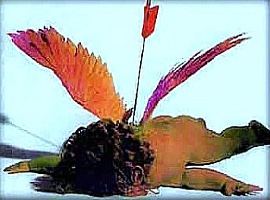 ah sway of
deceiving
deceiving
be mine
coveted
devour
what
desire does, detour entirely
wreathes me
in thirst
that isn't forever but pretends to be
connives thru-out
into possessive mad enthral
into abstract fractals of flame-less-ness
into dismay
into discordant
ailments and discomfort
certain limbs
are being
phantoms
a suck of
in continual
flutter, panic even
makes the
heart manufacture
insurgence
ah climb that blood
spire with many
inflated tongues
be mine
eternally cloyed
and dealt with valentine
entwine
suffocation's deviant trip
dine
upon a lover's inheritance
be mine moaned
fester amongst chocolate ridiculed with mould,
diagonal roses are for no one
valentine
absolutely mine
your soul borrowed, hollow and noiseless
be mine
until overly old and derelict,
memory antiques and creases
together we can mismanage
the arthritic banter in our bones
until the heart's cathedral collapses
we can watch the buRning
metropolis whilst despair
threatens to involve us
but
beheaded love letters pierced at their paper stakes
their cheap fingerprints scattered into a shallow card grave,
i will throw your love thru hell, still waiting its thaw
until tomorrow rots itself
until milk turns into night
when amethyst is eroded and
the last star spider's its death
i am still waiting
neither with face nor eye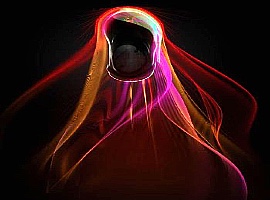 the light
cooled to a mere gem,
static, cloaked
in vast hoods
tranquil, plush and veiling
comes slumber
where living forsakes
where the cloud corpses float
as nocturne's estate grows its
charcoal kingdom, a dark heir
eagerly awaiting to pour an army
neither with face nor eye
pale red pictures
bunker? cavern? absurd cave?
red lazy words chase
graffitied redder tails, cochineal
comets, cardinal drumbeats
rush hoofed and rufescent
coral coloured ambience
claret sails losing oxygen,
reddish pyrexic house a
mauve room of logic a
tiny planet replacement
that awful season that
dropped it's skeletons,
sanguine listener upon
a flared screen, perhaps
a firework of limbs
a hollowness rips its bells
scarcely fond its geography
expelled, memories aren't
entire, a bloody alcove
of misspelling
was
in situ
snug-fit-
cocooned
walled quite up from the world that knows only sharpness and striving
rhythms won't weather
along the spine's sparkle,
dragged moonbeams
surrenders closeness,
haven no more, town of quartz
spilled out like a slick
made to feel blazed by
ufo's ceiling stood, don't recognise
other discolours except red
and thunder from inside another
traces of kisses went
the direction is wrong
the echo unmet, all hollows
now unable to refurbish,
a collapsible universe, doubtful
i miss your hot rapids
of blood, the wallpaper's
living glow, its rubescence,
its heartbeat strobe
pale pictures of home
carved figures of brother and saliva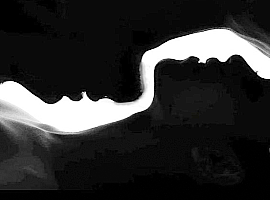 stood
in the blast of
childhood's
ending
stood
whilst proteins
city the playgrounds
fairytales cull in
a derelict swing
where gnawing
succumbs what
stood for
a finished slide
where yesterday
post mortems,
husks of toys -
refused
now that more elaborate
daggers are carving out
the hillsides are carving
out nerve endings
i was childish then
in the furnace's delightful
education, the dirge of
puts doors to then
the younger of me where
measles punctuated, is
confirmed dead, an ease
of, skin and under
a constant tooth
a hammering thru
the heart's gorged
lid
refurbish whilst bones
start to motorway start
to stretch, a rooster of all
blushes, inflames blazes
this is no mild climate thought
it rants and carves out intimate
strangers, resumes and re-clutters,
lonely, assumes sameness
there's satan in my sunday bed
a cliche of bells that each church
bleeds out, pointlessness inside my
head, the 80's is scaring itself
"go kill yourselves"
falling inside, falling hasn't chosen,
desire being woken amidst swarm-
wing'd confusion, amidst the
flutter utterly-comes-shrapnel
and silence whispers delight
to my porous jack o' hearts,
delight tampered with, each romance
out of place like a smile in a morgue
i wreathe my own failure
creating masks that were daily,
dreamed a lie so see-thru and
unavailable, the bed's stillness is
bipolar, an arctic for no one
this is where i grew myself
a shape that won't fit itself
and lie there like longing,
a part of but never belonging
red scenic muscle, the sweat
off the shore sweetly does the
inflammable snake in-between
an orchid's edible grin
oh moans up thru the bay's moan
upwards, soars, excites the
unretrievable engine, there's
ammunition in every groin
only is for brief whiles, the briefest touch of them all
carve myself broken, there's
enough hatred out there to
wake the world, trolls enough
to purify their seldom churches
into grotesque ailments
there is still a child within
this adult capable of re-
drawing the past to remake
each silence become her and him
stars thru out each victim