a smooth ooze and a covering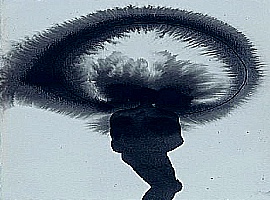 oh soothing tree beneath which we lay mesmerised
dew-like-moist in each other's tender arms, "how
love's conquest swarms strengthened by summer's
boisterous warmth" so unwary of ghosts whilst
carving our initials with pieces of stone
ether drone
to us perfect song
come instruct this heartbeat to waterfall its want
cloud unresolved sculptures slide the sky's measure
gargantuan snowflakes, midair mellow mountains
drift upside down, an incoming mask, there's a
cockroach up there -if you squint- trying to be a fish,
a whale somehow catches sunbeams in a jaw-like precipice
cotton white seed heads afloat fay small crowns
he wipes them from his blond hair boasts their frail
cargo to unravel over him, oh dissolve frustration collars
suede hollows are accepting, whilst eye constellations
grope their glint n gleam and sparkled lustful fragments
your forever changing body leaves me quite uncertain
but certain of our gazes, into the flame of his blood
inflamed me, there glisters beneath eyelids
and butterfly-winged-whirlwinds, duplicate me further
incandescent arrow shoots oh honeysuckle wow
there's an earthquake happening in us now
everywhere -
inconsequential
breath divided and shared stars
outside hid, has a harsh chrome world of grazes
jagged addicts requiring their bones to be loved,
vast holes lonely places loveless sea black tideless nothings
our half ghosting goes unnoticed but sped on a dark
collapsing axis, lifetimes of excursions and gossamer near
misses, i'm further swallowing ditches and poured pollen
thankful, we engulf wholeheartedly
flurry after inevitable flurry
frayed-knife-cutting-edge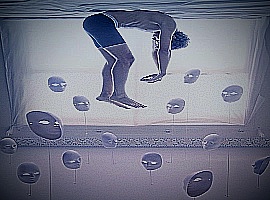 cocked-crow-fuls awaken strewn
frozen-eyed-frenzy-thawing,
peal oh pearl a shocked roar, bud
does its clock and stamen calling
there in slick of wetly worded morning
stuck to a dream that is explicit, feel
wreathes of someone else's fingers
startled secretive slivers thrives shivers
men-shaped-holes faded now sheet-
wise shame go hide underneath where
prying won't learn of, come find me in
the undergrowth of losing myself
it'll be captured in the nerve ending photographs,
fantasies outline the blood's intake of
cathedral shapelessness, come lick up that
stem of fire, brightly desire gendered
"quietly" demands outside, go to the below
of normality and straighten, lest the red
besieged beaks vulturesque find you and
sail your abhorrent bones up onto crosses
i'll stay in the sleeve of anorak boredom
trying to be in that skin of acceptance,
trying but the architecture of proteins
quite deafening, certain and not asking
you'll find the sun-beam-less stood awry
stood in the linen of a lie whispering codes
from inside cupboards, corporate closets
for all those on fake taking it up the trousers
awkward around those skirt swirled persons
biohazard to look at, does the curve play itself
straight? pretending on remote the groin's
lustre when in truth it wants other inmates
seeps a scent mocked treacherous 'ere it
flowed, its sustenance makes feelings
borrowed, a locust constellation a filthy rainbow
to disown, weeps a scent, itself cuckoo bent
what shall his soil grow to make the abdomen
respond? do you alter or accept its glow?
should the inquisition dare to ask wear your
consumable skeleton mask
fruitful the body is plucked more than once
voltage sprays upwards thru' the neck so
the pyre juices can collect, frayed knife
cutting edge, protein stars sexual orbit
so riotous lit
hi-b-rid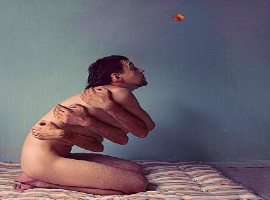 taken to re-sighing
the sea about that smile
has lips uncertain
strange proteins
unremarkable in their
fossil closets
view myself
unrepeatable mirrors,
an echo for a faded voice
what makes the blood
rub so, made far too curious
it's starting to sculpt relapsed buildings
out of sleep out of waking
foes are about their sexual
offal, i am blundered with quiet
whilst all else has shrill trumpets
bones relaid to make for others,
i am lonely as
i'm wired to the frantic horizon of
cobalt blossoms buRning panic,
every cell-moan exerts lightning
stretches me further, extends the
height root-pushed-spires, where
am i heading? towards the bed's flame
i am spiralled i am downward and
unraveled, the male knot is dreadful
and giddy with gulps and such a thirst -
it devours inside upwards, pulls at
drags down, don't hide me in the
cellars of quite far below where many
lives hang not being themselves, far
fainter copies exist daily, still i am
every despicable want fullest on gasp
adolescent pearl raged then such tiny
cages molten worried and then some,
i am slivered right thru with hidden initials
now is neither before or an aftermath, aren't
you "that unrecognisable" from kaleidoscope past?
a tuber's-worth seldom left to become its flesh
i'm moon soaked worry and the sheets will
betray, such secrets don't leave dents but
bury such sharp acorns
there's resurrection, an awful spire, drenched
with unnecessary weathers, come fill the skull
with obscene blushes
am i half of clandestine someone? now is nearly
done with fear gnawing as festooned mammals
with blunt cartilage and enamel
gnaws so deeply to infect my un-resourceful
heart, eroding something suspect into lesser
than was wrought
delete the person that came before, i am going
whilst convinced arriving, come strive me with
confetti bright men, a feeling gorgeously shivered
tho slightly absurd
come, we must hurry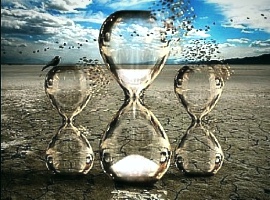 come, we must hurry
the day is doing itself in
the boughs are preparing for dusk,
the quiet of my heart wants rushing -
with the fragments of someone
skywards cloud shrapnel begins to
dress the horizontal skeleton, come,
we must hurry before tomorrow is
upon us deafening shroud and all,
come commit to the rivers of my sex
i am a swirl of mixed up mirrors that
can never quite capture my face, i elude
the root's touch yet want so much
to be loved to be entwined in the
trelliswork of someone rubbled with desire
come, hurry, the moon is slid downwards
and drags their white glared dress, time
is eating itself, future moments will become
sparse, none to spare loneliness that is
a castle now, impenetrable devil on a plinth
hurry, before the hidden elapses and age
becomes indebted to being still, strive
until the wish itself collapses, and night will
sew us in into being anonymous, there's
a bed unshared finished with failure
an ultimatum of now why my inner of all
seeds still waxes, if kisses were true they'd
drag me thru' the light drag me until soaring,
but truth is unnecessary crocuses frozen
under metres of non uttering sadness
where is forever but brief and held in a sped
second, a shutter-eyed-lense'd-intention catches
him looking handsome, aware of your nectar
shirt and what thrills lie beneath cotton hiding,
i am unwilling to hurt, explaining the bed's desert
if this lifetime is being hurried i have not spent
that long, headstones are for oneway sleeping,
try to catch with eager mouths damaged rainfall
whilst the last flame guildes the final horizon, hollows
exist for sorrow to persist so commence fleeting -
before glooms exerts residual blueness and lonelier revisits