a smooth ooze and a covering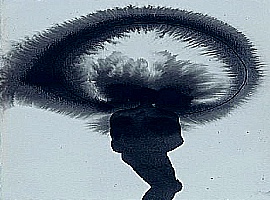 oh soothing tree beneath which we lay mesmerised
dew-like-moist in each other's tender arms, "how
love's conquest swarms strengthened by summer's
boisterous warmth" so unwary of ghosts whilst
carving our initials with pieces of stone
ether drone
to us perfect song
come instruct this heartbeat to waterfall its want
cloud unresolved sculptures slide the sky's measure
gargantuan snowflakes, midair mellow mountains
drift upside down, an incoming mask, there's a
cockroach up there -if you squint- trying to be a fish,
a whale somehow catches sunbeams in a jaw-like precipice
cotton white seed heads afloat fay small crowns
he wipes them from his blond hair boasts their frail
cargo to unravel over him, oh dissolve frustration collars
suede hollows are accepting, whilst eye constellations
grope their glint n gleam and sparkled lustful fragments
your forever changing body leaves me quite uncertain
but certain of our gazes, into the flame of his blood
inflamed me, there glisters beneath eyelids
and butterfly-winged-whirlwinds, duplicate me further
incandescent arrow shoots oh honeysuckle wow
there's an earthquake happening in us now
everywhere -
inconsequential
breath divided and shared stars
outside hid, has a harsh chrome world of grazes
jagged addicts requiring their bones to be loved,
vast holes lonely places loveless sea black tideless nothings
our half ghosting goes unnoticed but sped on a dark
collapsing axis, lifetimes of excursions and gossamer near
misses, i'm further swallowing ditches and poured pollen
thankful, we engulf wholeheartedly
flurry after inevitable flurry
frayed-knife-cutting-edge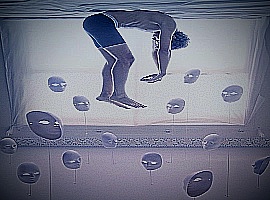 cocked-crow-fuls awaken strewn
frozen-eyed-frenzy-thawing,
peal oh pearl a shocked roar, bud
does its clock and stamen calling
there in slick of wetly worded morning
stuck to a dream that is explicit, feel
wreathes of someone else's fingers
startled secretive slivers thrives shivers
men-shaped-holes faded now sheet-
wise shame go hide underneath where
prying won't learn of, come find me in
the undergrowth of losing myself
it'll be captured in the nerve ending photographs,
fantasies outline the blood's intake of
cathedral shapelessness, come lick up that
stem of fire, brightly desire gendered
"quietly" demands outside, go to the below
of normality and straighten, lest the red
besieged beaks vulturesque find you and
sail your abhorrent bones up onto crosses
i'll stay in the sleeve of anorak boredom
trying to be in that skin of acceptance,
trying but the architecture of proteins
quite deafening, certain and not asking
you'll find the sun-beam-less stood awry
stood in the linen of a lie whispering codes
from inside cupboards, corporate closets
for all those on fake taking it up the trousers
awkward around those skirt swirled persons
biohazard to look at, does the curve play itself
straight? pretending on remote the groin's
lustre when in truth it wants other inmates
seeps a scent mocked treacherous 'ere it
flowed, its sustenance makes feelings
borrowed, a locust constellation a filthy rainbow
to disown, weeps a scent, itself cuckoo bent
what shall his soil grow to make the abdomen
respond? do you alter or accept its glow?
should the inquisition dare to ask wear your
consumable skeleton mask
fruitful the body is plucked more than once
voltage sprays upwards thru' the neck so
the pyre juices can collect, frayed knife
cutting edge, protein stars sexual orbit
so riotous lit